Social Media Marketing and Optimization Services
Best social media marketing services for your business. We can proficiently manage your social media accounts and optimize them to boost your online presence. We can also run effective social media advertising campaigns for your business.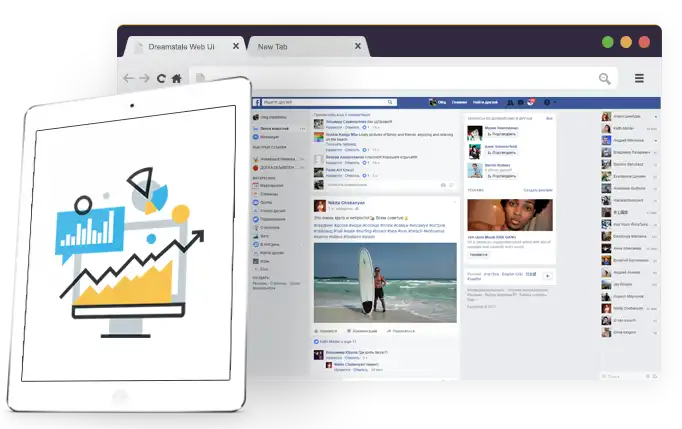 Benefits of SMM & SMO Services
Increases brand awareness
Support for the formation of the company's image or brand using the multimedia capabilities of social networking
SMO allows you to get feedback from potential and real customers to improve the quality of your services
Increases audience loyalty
Formation of user confidence in the brand, product, company, achieved through interaction within the social network
Base of potential customers
SMO allows you to build a base of potential customers for further conversion into real customers
Social Media Optimization & Management Services In Jaipur
Adclickr, India's leading social media optimization agency, prioritizes its clients' needs by thoroughly listening to their requirements and objectives before implementing any social media optimization campaign. Our team works closely with clients to develop a customized social media optimization plan that guarantees timely and desired results.
We will Optimize and manage your Facebook business page. We also create high-quality and engaging Facebook posts with actionable content to increase your page's engagement with your followers or community.
When it comes to LinkedIn optimization, our SMO agency will set up your business profile on LinkedIn and provide all the necessary details to make it perfect and complete. A well-optimized LinkedIn business profile can increase your chances of ranking higher.
We will manage and optimize your Instgram page. Our team uses high-quality graphics and Instagram insights to optimize your profile and create actionable content to boost engagement. We also conduct proper hashtag research.
we offer top-quality Twitter management services for businesses seeking to optimize their online presence. Our expert team creates and posts engaging, high-quality content to attract and captivate your target audience on Twitter.
We also offer affordable YouTube management services and we help your videos rank higher on YouTube through organically. We create custom thumbnails and optimize your videos to improve their visibility on YouTube.
if you are an online store owner looking to increase traffic and sales, our Pinterest optimization services can help. We optimize your Pinterest profile and complete all necessary verifications to launch your campaign successfully.
Our Social Media Advertising Services In Jaipur
If you choose to hire our social media marketing services, our team Social Media Marketing experts will assist you in identifying the most suitable social media platforms to promote your business and products. We possess the necessary expertise to launch, monitor, and manage social media advertising campaigns, which includes:
Facebook advertising campaigns offer a variety of targeting options to help advertisers reach their ideal audience. Advertisers can target users based on their location, age, gender, interests, behaviors, and more.
Our advertising services on LinkedIn are specifically designed to target B2B customers. With LinkedIn's user base, we can reach decision-makers in organizations, as they make up approximately 80% of LinkedIn's membership.
YouTube marketing campaign, marketers can specifically target their intended audience, which is not possible when advertising on television. Moreover, advertising on YouTube is as easy as linking your AdWords account.
Twitter provides businesses the ability to define their marketing campaign goal, whether it be Twitter engagements (likes, retweets, replies), website clicks, app installs, follower growth, or lead generation.
Our Social Media Marketing Packages
Our Social Media Marketing Work process
Research of Social Networks
Launch of advertising campaign
Our Social Media Marketing Cases
Social Media Marketing FAQs
The website they developed for me was exactly what I envisioned and more. It was visually stunning, easy to navigate, and optimized for search engines. Their team of designers and developers worked closely with me to ensure that the end result was a perfect representation of my brand.
- Vikas Gahlot -
I am very thankful because I had a website and I got in touch with the adclickr for seo services. They are best at doing SEO as now my website after only a few months is ranking on the top search results. It is the best seo company in Jaipur and people are very hardworking.
- Abhishek Timaniya -
I recently worked with Adclickr to develop an eCommerce website for my miniature paintings, and I have to say, I am extremely impressed with their work. The team at Adclickr is incredibly knowledgeable and skilled in both website development and SEO.
- Veer Narayan Arya -
They are very good at digital marketing for local business and they ranked the business of my brother in top results. The SEO team is amazing and very good at communication.
- Ashok Regmi -
I started my business during the COVID-19 pandemic, that was a hard time to see results but then I heard about Adclickr they actually helped a lot by taking my business online through great marketing approaches & digital technology, and best part is in affordable budget.
- Navdeep Bhardwaj -