Social Media Marketing and Optimization Services
We develop exclusive content and build an emotional connection with the audience. Each project has a team of experts in SMM: strategists, content managers, editors and advertising managers in social networks. Our services include: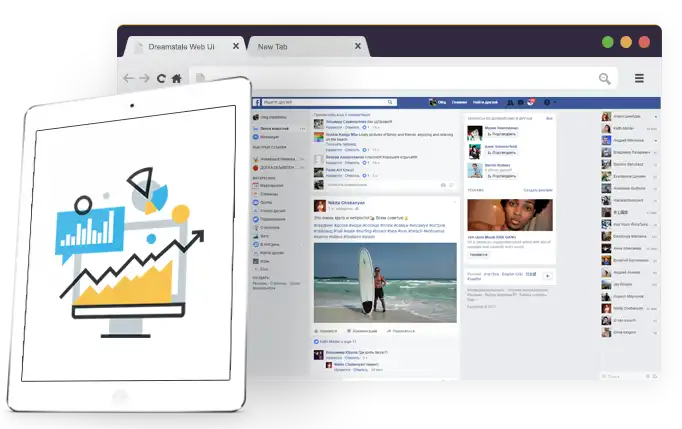 Benefits for your business
Increases brand awareness
Support for the formation of the company's image or brand using the multimedia capabilities of social networking
SMO allows you to get feedback from potential and real customers to improve the quality of your services
Increases audience loyalty
Formation of user confidence in the brand, product, company, achieved through interaction within the social network
Base of potential customers
SMO allows you to build a base of potential customers for further conversion into real customers
Research of Social Networks
Launch of advertising campaign
Great team overall and really happy with members of the digital marketing team. Highly punctual and quality services delivered in time. Thank you Adclickr for helping me out.Cheers 🙂
- Gautam Thapa -
The website they developed for me was exactly what I envisioned and more. It was visually stunning, easy to navigate, and optimized for search engines. Their team of designers and developers worked closely with me to ensure that the end result was a perfect representation of my brand.
- Vikas Gahlot -
I am very thankful because I had a website and I got in touch with the adclickr for seo services. They are best at doing SEO as now my website after only a few months is ranking on the top search results. It is the best seo company in Jaipur and people are very hardworking.
- Abhishek Timaniya -
I recently worked with Adclickr to develop an eCommerce website for my miniature paintings, and I have to say, I am extremely impressed with their work. The team at Adclickr is incredibly knowledgeable and skilled in both website development and SEO.
- Veer Narayan Arya -
They are very good at digital marketing for local business and they ranked the business of my brother in top results. The SEO team is amazing and very good at communication.
- Ashok Regmi -