PPC Ad Setup & Management Services
Free conduct an audit of campaigns, niche and website
We provide clear reports of the results
Increase the number of emails and phone calls
Reduce the average cost of clicks and customers
We consider the work done when recouped your investment in advertising
Why PPC Services for Your Business?
65 % Businesses Invest In PPC Advertising.
50 % Conversions On Google Ads Than Organic Traffic.
33 % Shoppers Click On Paid Search To Get In Touch.
Our PPC Management Strategy Offers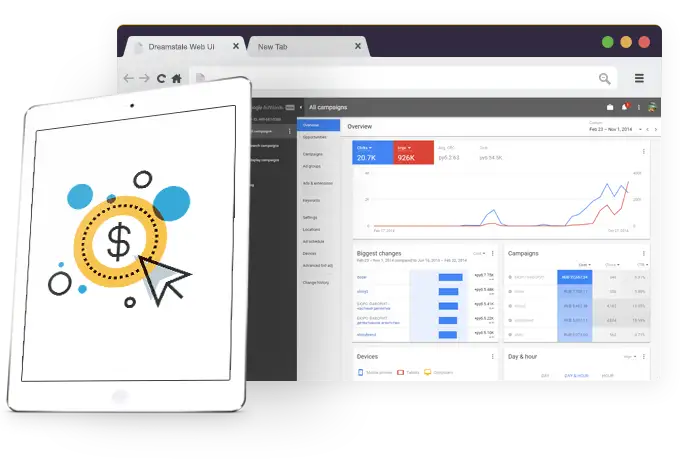 We are Google Ads certified with a deep understanding of the guidelines required to run a successful campaign. Our PPC experts are always learning new skills to provide maximum results. By hiring us for PPC management, you will receive the following benefits:
Comprehensive keyword research and analysis
Professional ad copywriting or Ad copy creation
Effective targeting and scheduling of campaigns.
Regular testing and optimization.
The best conversion tracking in the industry.
Our team will work closely with you to develop a custom PPC strategy that fits your unique business needs and goals.
Our PPC Services Include
Search engine ads are a type of online advertising that displays ads to potential customers on search engine results pages (SERPs).
Display advertising is well-known for its efficiency since it is capable of reaching more than 90 % of users of the internet.
Social Media ads is a type of online ads that deals with customers through social media such as LinkedIn, Quora, and Facebook.
Remarketing ads display similar ads to those seen by the customer before, with a focus on targeting criteria.
Google Shopping ads are ppc ads that display in a carousel above or to the side of the main Google search results for websites.
YouTube ads, are ads that appear on YouTube videos, search results, and video partners on the Display Network.
GSP allows advertisers to communicate directly with potential leads in their email inboxes, with a click-to-call functionality that enables leads to convert at any stage.
App Install Ads are a type of Google advertising that promotes apps on the Google Display Network and AdMob. App Install Ads are designed to increase app installs.
Local search Ads or Google Map ads or Google my business ads are designed to show up for customers in your local area, making it easier for them to find and contact you.
Our PPC Management process
Analyze your selling proposition and niche
Make a predictions of campaign performance
Conversion Rate Optimization
PPC Services FAQs
Order a free campaign setup!
We set up an effective free advertising campaign. Ensure a minimum value of clicks and increase the number of customer calls up to 500% within 48 hours. You pay only for support. Want to know more?